Associated Services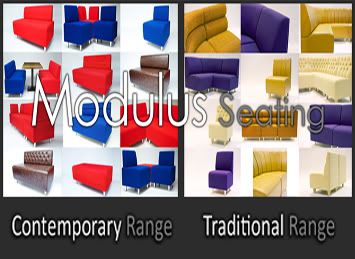 Modular Seating is the perfect solution to today's world of bar, pub, club, restaurant and reception interiors. The modular shapes can be used to create numerous layouts that are entirely flexible to fit any contract or domestic establishment. Both traditional and contemporary designs are available with 5 Styles, 3 Shapes, 40 Fabrics and 16 Leg styles in each range.
Visit Our Modular Seating Styles page to see a range of designs, alternatively have a look at our Portfolio to see examples of our work.
All of our modular seating is available to buy direct through this site, so when you are ready to make your selections proceed to our Buy section to make your purchase, or simply give our experienced sales team a call who will put together a quotation for you.
Feel free to Contact Us for any information and advice on modular seating.
Tel: 01202 676 973 Email: sales@modulus-seating.com
---
Although at Atlas we are primarily focus on our production of bespoke banquette bench seating we also get involved in many accompanying products such as tables, chairs, stools, sofas and other loose furniture.
At Atlas we deal with numerous suppliers and can always source at competitive prices and ensure you will find something that is to your requirement.. We can source both finished products and raw frames in order to add a bespoke touch to match up with other products and best suit your venue.
We can also produce many other bespoke items such as upholstered benches, wall panelling, bars, cabinetry and many other upholstery and joinery items.
Our experienced sales team are happy to discuss any project from a single one-off item to turn-key projects, please Contact Us for advice.
Tel: 01202 667 174 Email: sales@atlascontractfurniture.com
---
At Atlas we can source thousands of varieties of upholstery covers. We keep very close to our suppliers to ensure we can achieve the best possible prices, also as we supply all cover at cost, we are very happy for you supply your own cover if desired.
Choose from a selection of tweeds, faux and real leathers, velvets, chenilles or patterned fabrics for our experienced upholstery team to work with.
Here are a few of our recommended suppliers.
www.crestleather.com / www.futuraleathers.co.uk
www.sunburydesign.com / www.sekersfabrics.co.uk
We also offer a free next day sample service direct from our suppliers so you know exactly what you are getting, if you have any queries please contact our sales team.
Tel: 01202 667 174 Email: sales@atlascontractfurniture.com
---
Spray finishers specializing in timber, metal & plastic products for interior and exterior use.
Based in Poole, Dorset, we provide a finishing service for the trade market. Backed up by a team with years of experience, our skilled operators use the most up to date products to get the exact finish you are looking for.
We offer a range of finishing methods and we will work with you to find a suitable solution. We can apply stains, lacquers, solid colours, paints, deep polyester gloss, amongst many others, and special effects such as antiqued and distressed finishes.
Visit Our Finishes page for more information. Alternatively have a look at our Portfolio to see examples of completed projects.
Feel free to Contact Us for any information and advice.
Tel: 01202 667 174 Email: sales@atlassprayfinishes.co.uk